Garage Door Springs Camarillo is a company which repairs and replaces broken garage door springs. If your garage door does not open properly or is too loose, then the fault perhaps lies with the spring. What you need to do is call our professional technicians to immediately replace or repair the spring. There is absolutely no headache in doing so. You really don't have to think deep into it because we, at Garage Door Springs Camarillo, are at your disposal 24/7. Our highly experienced technicians may assist you in choosing the perfect spring for your garage door, so that it can function very effectively.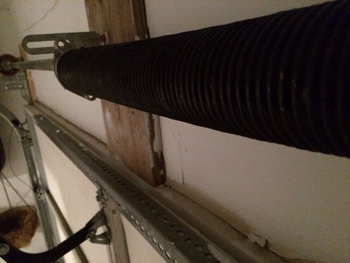 A typical garage has a door that is built in sections that slide up and in on the metal tracks. The garage doors are too heavy and are supported with springs. And just like any other mechanical device, the springs of the garage door need to be replaced occasionally. Moreover, due to the lack of proper and regular maintenance, the springs tend to become weak and they do not function properly. It is very important to, periodically, examine the garage doors and look or listen for any signs of spring malfunctioning. And if you spot any indications of spring malfunctioning, we are just a phone call away. Our experts are always ready to go to your place, check out the problems and fix them immediately. We also offer you a reasonably lower price as compared to other companies located in and around Camarillo. Moreover, our experts may also explain you about the need of regular maintenance of your spring as this helps in the proper functioning of your garage door.


Garage door springs tend to break very easily
The hectic and busy schedules don't even allow you to buy and replace your garage door springs immediately. Moreover, it is a very tedious task to find the correct replacement of the springs out of the hundred possibilities in the market. We, at Garage door springs Camarillo, can help you find the best available springs from our collection. We offer springs of various trusted brands. Moreover, our trained technicians can replace and repair your springs very efficiently and this will give life to your garage door. Garage door springs are prone to damage as they are exposed to extreme weather conditions. We, at garage door Camarillo, provide you with the best quality springs that are highly weather resistant and do not get damaged easily.

We supply Torsion Springs, Extension Springs and galvanized door springs by the largest brands that will guarantee their excellent quality and assure the longevity of your garage door. These springs can hold your garage door strong till 5-6 years without any serious damages.

You can give us a call any time. We are available round the clock for your queries and problems. You can also visit our website. Our website provides you with all the information about the effective work of our technicians.